It was always a joke in the post mortem meetings that accompany most art and antiques fairs, the dealers that complained the loudest about fair amenities, attendees, or promotion, were the dealers whose sales were the lowest. Mind you, it was and remains a rarity for dealers candidly to admit their at-fair sales. Some of our acquaintance always reported brilliant results at every fair, only to find, a few months on, that they'd ceased trading.
In fairness, though, a prudent and reflective dealer can't really know or assess success at the conclusion of a fair. The standard one should stick to is, assess the fair's success six month's on- if you've achieved some sales post-fair to at-fair visitors, then reasonably those sales should be attributed to the fair itself.
Still, a fair old bit of whinging post fair is inevitable, and with so very many dealers now trading only by appointment, selling during the run of the fair is essential. For furniture dealers particularly, the shipping, handling, and sheer space required to show always runs into money.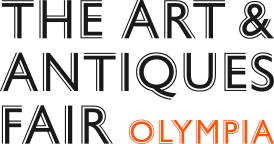 For us to do a middling fair results in a mid 5 figure price tag, and the cost only goes up from there.
It is sad to report that even in our benighted backwater, we were nevertheless able to hear the weeping and gnashing of dealer's teeth that marked the unfortunate conclusion of the London season. With only two fairs now surviving- Olympia and Masterpiece- there was no particular increase in revenue or attendance given the smaller number of venues. Indeed, Olympia itself is pared down from past years, with 160 dealers- less than half the number the fair boasted in its glory days. One dealer complained that Olympia's problems stem from its being too far from central London. Really? With a tube stop at its very door and special trains laid on? Perhaps those five steps across the platform at Earl's Court station are a bridge too far.

And, now, of course, the perennial complaint that the buying public has suffered a sea change in its taste and buying patterns. While Olympia remains a bit brown furniture heavy, Masterpiece is much broader in its luxury goods approach to what's on offer, and its broad range did not offer much insight, with lackluster sales across the board.
There were surprises during the final few days of the season, a few, including an extraordinary early 17th century portrait of Thomas Pope, 3rd Earl of Downe, by William Larkin (1580-1619) for £370,000. Worthy of note- this sale at auction at Bonhams in New Bond Street at 6 times high estimate puts paid to any notion that it is only contemporary art that is the market's bright spot.
Of course, not all lots at auction or at fairs are stellar, but in days that have so far gone by they seem nearly legendary, it was almost axiomatic that, if a dealer offered any kind of fairworthy material, it would probably find a home, and not accompany him back to his shop in Nether Wallop.
The why of this? Last year, it was thought moribund trading conditions were brought on by uncertainties related to Brexit. This year- well, Brexit is still proceeding apace, and global political uncertainties throughout intensify daily. Still, stock markets burgeon with unrealized profits the result of asset appreciation. One would think modest encashment would provide enough of the ready to result in more than a few fair purchases.
So who's to say? Certainly the internet provides a virtual fair all day every day, with online platforms taking the place of not just bricks and mortar but also the fair marquee. While only one and at most two platforms offer material of fair quality, that there are so many- with a new one announcing its presence just today- all function to some extent to whittle away some little bit of business.
Still, the fair experience, at the likes of Olympia and Masterpiece, cannot be equaled, and for those who have once experienced this portion of the London season, it is likely to become an annual event. And the virtual online competition? And will it fade? Sometimes, the only thing to do is persevere and wait until the gods driving both market forces and the experience of the art market patron decide to focus a beatific countenance on dealers in the trade once again.